Michel MAGNE
An outstanding man, a visionnaire composer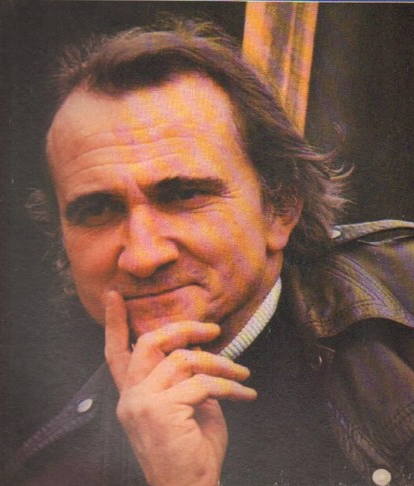 (Photo © 1976 Barclay, reproduite sans autorisation)
Michel Magne (1930-1984) was a French film music composer who had a strong personality. Classically trained in Caen then in Paris Conservatoire, Magne began his career in electro-acoustic and concrete music. He then worked for Barclay Records as an arranger and a song composer, then turned to music for movies. From 1960 to 1984, he wrote more than 100 scores, and was exceptionally prolific from 1963 to 1973 – ten years during which his genius exploded in an astonishing series of successful movies: all the "Angélique", all the "OSS 117" and all the "Fantômas", plus "Mélodie en sous-sol", "Les barbouzes", "Les tontons flingueurs", "Le repos du guerrier", "Belle de jour", "Le vice et la vertu", "Compartiment tueurs", "Galia", "Moi y en a vouloir des sous", "Les Chinois à Paris", "Tout le monde il est beau, tout le monde il est gentil"... He wrote in every style, from symphonic to jazz, from rock to pop, with a very personal style and an exceptional intelligence.
In 1969, Michel Magne built Strawberry Studio: a professional 8-track recording facility in the attic of his mansion, Le Château d'Hérouville (Val d'Oise, 20 miles North of Paris). A 30-acre park with huge and old trees, private tennis and swimming pool, a private chef to cook the meals, exceptional wines (like Cheval Blanc and Mouton Margau) were de rigueur. From 1965, the whole Parisian show-business had already been regularly invited in Hérouville for dinners and week-ends in the country, including famous directors and actors of the time. With Strawberry, Magne thus created the first French residential studio: artists could live, eat, sleep and create there, out of the world for weeks, without external pressure. This was like a revolution, as all the other Parisian studios were somewhat sad to live in, especially the ones owned by record labels, run like a private corporate company, with obligatory shirt/tie and etiquette…
Strawberry Studio business started slowly, but from 1971 to 1973, success was huge, and many artists came to record outstanding albums. Canned Heat, Bill Wyman with John Walker then Tucky Buzzard, Elton John (three LPs in a row, among which a double record!), Cat Stevens, Gong, Dashiell Hedayat, Gilli Smyth, Pink Floyd, Joan Armatrading, Magma, Eddy Mitchell, Nino Ferrer, Pierre Vassiliu, Terry Riley, T. Rex, Alain Markusfeld, Claude Nougaro, Michel Polnareff, Danyel Gérard, Adamo, Gilbert Montagné, Joël Daydé, Zoo, Catherine Ribeiro, Jean-Christian Michel, Alice, Ergo Sum, Total Issue, Zabu, Uniweria Zekt, Catharsis, Jethro Tull, David Bowie... came for several weeks in the Château d'Hérouville. Magne built France's first 16-track mobile recording studio, then a second studio in Hérouville; the Château park hosted memorable concerts, like the Grateful Dead (June 21st 1971), or Magma for Michel's wedding with Marie-Claude, in November 1972...
At this time, Magne was fed up with his new job as a studio manager, 22 persons on the payroll. He wanted to go back to music composing, and leased the studios to another Paris studio manager he knew. Financial problems quickly arose, as the studios cost more than they charged. Hérouville studios went into administration, and the place was abandoned at the end of 1973. Laurent Thibault, a French musician and producer, took over on June 24th 1974, but not as a new owner: he could only rent the Château, which was finally auctioned to a property developer on June 7th 1979. The studio finally closed its doors on July 27th, 1985, but with a track record second to none: in 10 years, the place saw the Bee Gees, Fleetwood Mac, Iggy Pop, David Bowie, Marc Bolan, Rick Wakeman, Sweet, Marc Bolan, Chris Bell, Hawkwind, Marvin Gaye, CharlÉlie Couture, Yves Simon, Transit Express, Saint-Preux, The Rubettes, Patrick Coutin, Tom Novembre, Rainbow, Jacques Higelin, Magma, Zao, Weidorje, Michael Schenker Group, the Yellow Magic Orchestra members, Akina Nakamori and even Nina Hagen record there...
In-between, Magne had left Paris to Southern France in 1974. All his income was taken by the IRS, so he painted and braided magnetic tapes, recognized as a major artist by his peers. He came back to Paris in 1977, and tried to restore his aura as a film composer, but with only little success. He was obsessed by the Hérouville case, and considered as a major deny of justice to be despoiled of his Château. He had a nervous breakdown, then another, and never could get over it. He finally intoxicated himself with medicaments in a Novotel in Pontoise, on December 19th 1984. His fame seems to be limited outside France. For the English-speaking readers, here's a resume of his brilliant life…
Michel Magne wrote his autobiography, published in 1980, "L'Amour de Vivre" (Love of Life). Out of print…
---
Michel Magne was born on March 20th, 1930 in Lisieux (Calvados, Normandy, France), the fifth child in a family of eight. At five, he's already fascinated by his parents' old upright piano in the living room. He is taught to play the keyboards by Lisieux cathedral's organist, and soon plays the harmonium during the Sunday office–Magne always will love organ. His father is an orphanage director, but Michel is very turbulent, and a true rebel at school. At nine, he discovers a stack of shellacs in his parent's attic: Wagner operas! Here's probably why Magne very often quotes Wagner in his works, for joking. He then studies music in Caen Conservatoire, and wrote an oratorio and a concerto for piano by the tender age of 16. In 1946, he leaves Caen for Paris Conservatory, where he attends lessons by Simone Plé-Caussade and Master Olivier Messiaen himself.
Back from military service, Magne discovers the ondioline and the clavioline. Seduced by the sound of these early French electronic instruments, he begins to think about sound, music on magnetic tape, and discovers basic electro-acoustic techniques with his friends Marcel Moureaux et Gérard Delassus. He is then not very far from the works Pierre Schaeffer and Pierre Henry create in the French Radio's Service de la Recherche... But Michel can never remain serious for a long time. On July 15th, 1954, he organizes an 'inaudible music' concert in Paris Salle Gaveau, using special speakers equipped with huge woofers. The level of the infrasound they generate makes some of the people in the audience sick (subsonic frequencies can influence our stomach and bowels). And when they want to go to the bathrooms, rugby players/vigils/friends of Magne tell them to go back to their seats. The concert is not a success, but it gives Michel the occasion to meet famous director Abel Gance. He'll work with him ten years later.
In 1954 too, Michel Magne writes his first score for a feature film: "Le pain vivant", by Jean Mousselle, based on a François Mauriac book. Mauriac told Magne, one day: "Have no illusions, my dear Magne, your music is so comic it becomes essentially dramatic. But don't change anything, it works like this". And on May 20th, 1955, our young Magne directs 110 players, 200 singers plus the Palais de Chaillot organ, in a program entirely composed by him. First, some 'sci-fi' music: "Secousse sismique n°2773 ter", "Mélodie populaire d'un autre monde ou mars en avril", "Berceuse pour grincement de violoncelle et orchestre à cordes"... Then "La symphonie humaine", a genuine sonic fresco, concluding with some Hitler speeches played backwards (to make him swallow back his own words) and flush noises. All this is not to every musical critique's liking, but Boris Vian, a friend of Magne, loves it nonetheless, and tells him! In 1956, Michel Magne releases a limited edition LP he produced himself, with film music he composed... withour directors!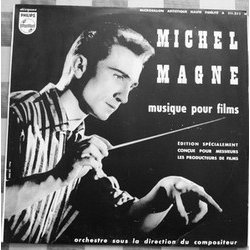 Michel Magne then begins to write music for songs. He then meets Françoise Sagan (a young French writer, successful with her novel Bonjour tristesse), who writes texts for singers Annabel, Juliette Gréco et Mouloudji. As a result, the Philips LP "GRÉCO/SAGAN" is released in 1956. Michel Magne spends holidays with his new friends in Saint-Tropez then New York. He then works with Henri Salvador as an arranger, then composes "The Broken Date" for Sagan (who wrote the booklet), a 90-minute long ballet, premiered in Monte-Carlo on January 3rd, 1958. Sceneries are designed by painter Bernard Buffet, and Roger Vadim is the stage director of this 'dancing novel', for a budget of 35 millions of Francs (eq. $ 1 million in 2016). Magne conducts the 30-musician orchestra. The ballet plays 10 days in Paris, then a month in Dominion Theatre in London (18/2-15/3), then embarks on a two-year long world tour, during which Magne becomes friend with one of the 'jazz' dancers in the team, Monique Vence.
On October 31st, 1958, Michel Magne is back in Paris' Salle Gaveau. He plays some 'old' 1952 music ("Carillon dans l'eau bouillante", "Méta-mécanique saccadée", "Mémoire d'un trou") and more recent compositions, like "Pointes de feu amorties au dolosal", "Self-Service", "Médius Fidius", "Concertino triple", "Larmes en sol pleureur". And nothing goes as it should… As he says, "In "Carillon dans l'eau bouillante", the timpani player had to heat water in a timpani and as he put the carillons in, they should explode. In fact, he almost put the whole lot in fire, and he was interrupted by the firemen. In "Pointes de feu amorties au dolosal", surgeons had to operate a naked woman in the piano. But the musicians didn't look at their scores anymore, and they played rubbish. In "Self service", plate breakers were so efficient from the beginning that they had nothing to break by the end of the pied. Moreover, the audience asked for an encore, and I had to explain it was impossible. During the ham solos, the tramps I had specially got on the Place du Tertre had already eaten everything during the rehearsals… It was a mess!" (Michel Magne, "L'amour de vivre", page 99). This concert's program was recorded in Barclay studios in September and October 1959, and published as the "Musique tachiste" LP. Magne recorded six other instrumental albums on the same year for Barclay (see Discography). In 1959, he writes his second film music, Détournement de mineures by Walter Kapps.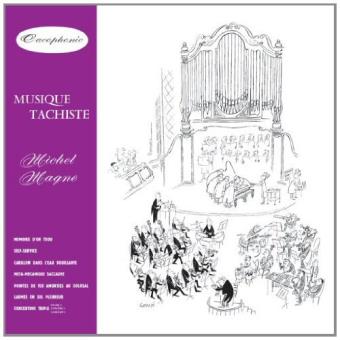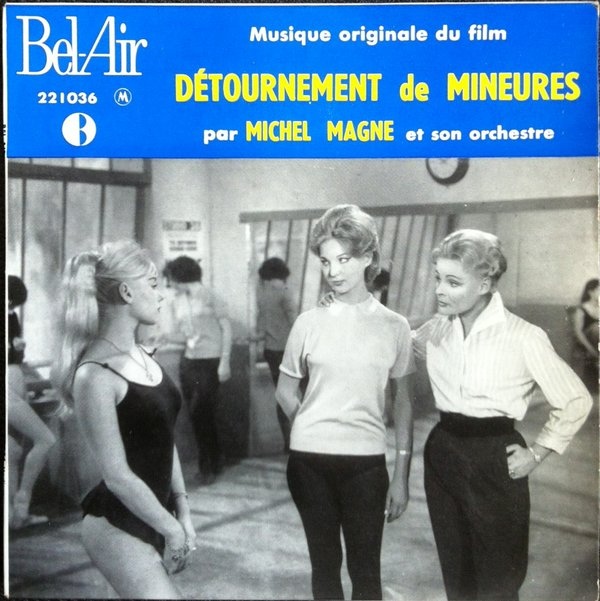 In 1960, Magne gives other concerts, notably "Cap Carnaveral Symphony, pour piano principal, 50 instruments de percussions, orchestre symphonique, fusées diverses (7 ou 8), et 3 oiseaux imaginaires". In the summer, he records in Quimper's Likez chapelle several famous classic French texts he put in music: "La Passion" by Charles Péguy, "Une saison en Enfer" by Arthur Rimbaud, "Paroles" by Jacques Prévert, plus Garcia Lorca and Bernard Dimey texts. Gérard Delassus was on the tape recorder. Back to Paris, Magne conducts the orchestra for Raymond Devos, then Henri Salvador, in L'Alhambra theater.
Michel is then asked to write the music for the comedy "Les pique-assiette". It's a success, and Magne decides that music for film will be his main activity. He works on a few French movies in 1960 and 1961, then is hired by an US production company to work as an orchestrator on the music of the movie "Gigot, le clochard de Belleville", shot in Paris by director Gene Kelly (and starring Jackie Gleason, who composed the score but couldn't write sheet music). Magne uses high-end technical tools and many musicians for the score, recorded in France.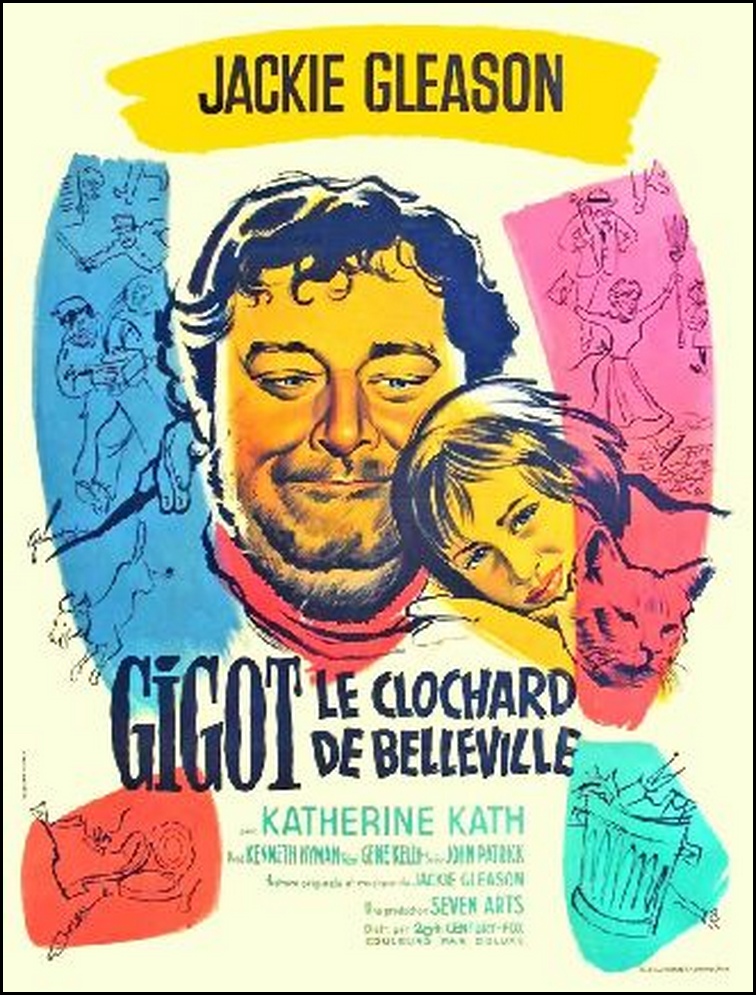 In 1962, Michel Magne publishesTropical Fantasy: a 'musique Tachiste meets Exotica' record, absolutely brilliant. Then Henri Verneuil, a major French director, asks Magne to write the music for his movie "Un singe en hiver", starring Jean Gabin et Jean-Paul Belmondo. A big production, well-known actors, a somewhat anxious director, but Magne adopts a fresh, non-conformist and innovative approach to the film, based on a heady harmonica theme. A commercial success once again, as his next score, "Le repos du guerrier" by Roger Vadim (from The Broken Date), which he wrote in three days, as the production refused the music composed by a colleague. And "Mélodie en sous-sol", by Verneuil, is again a success, with a very lyric and cinematic music. In March 1963, Michel Magne is definitely in the First League of French music for film composers, with his peers Georges Delerue, Michel Legrand etc. He often works several times in a row with directors, like Hunebelle, Lautner, Borderie, Vadim, Costa-Gavras… (see Filmography), which means sometimes more than ten scores a year! In his Hérouville music room, Magne is helped by his assistants (among which Michel Colombier, Jean-Claude Vannier, Richard Demarsan, Bernard Gérard, Jean-Claude Petit, etc.).
Since he arrived in Paris, Michel Magne settled in Montmartre, then Versailles. He married Monique Vence in 1960. The same year, he had to leave his Versailles flat. A friend talks him about "Le Château d'Hérouville": two wings arranged in 'L' shape, built in 1740, separated by a wall, in a five-acre park, in a small country village. Michel loves the place, even if it's in bad shape, and buys it with his friend. He then spends all his royalties to refurbish his wing of Le Château, hiring specialized workers and using high-end materials. Two years later, everything is as new. Michel and Monique have a huge bedroom, there are dining rooms and music rooms, and Michel works in a 100-sq. m attic under the roof. A swimming pool and a tennis court have been built in the park, with ornamental trees and flowerbeds. Every week-end, Michel invites movie producers, directors, actors, musicians to eat in Hérouville. As his friend died in a car crash, Magne now owns both wings: that's 1600 sq. m, with space for his paintings or his photographs, plus 20 bedrooms, kitchens, dining rooms, a huge veranda...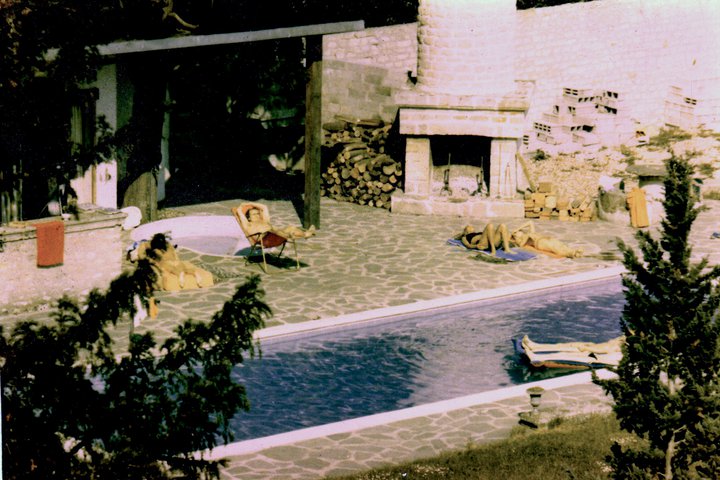 All this success slightly goes to Magne's head… Monique Vence doesn't like Michel's new way of life and new friends, and leaves Hérouville in May 1968. The same year, Magne writes a wacky score for erotic/sci-fi movie Barbarella by Roger Vadim, starring Jane Fonda, but frightened US executive producers replace it with a more conventional music. That's a shock for Magne, as he was sure this could open him Hollywood doors. And on May 26th, 1969, the Château's left wing is severely damaged by a fire, probably of criminal origin. In Michel's music room, which burnt completely, there were all his scores, master tapes, records, photos, films, and his favorite concert piano and electric organ. Magne is devastated, but soon puts all his energy into new projects. Among them, a personal studio, "without any commercial idea. It was simple: I only wanted to have available, on a permanent basis, a tool to compose and record in the best possible conditions". ("L'amour de vivre", page 193). It is decided to build this studio in the right wing's attic, identical to the destroyed one. 100 sq m, 6 m height, and an excellent natural acoustics, plus daylight and historical beamed ceiling: the place is very attractive.
Helped by his electronics-fluent friend Gérard Delassus, Magne buys a broadcast console and a 4-track Ampex, plus 4 Altec speakers. But then, to record on multitrack, a separate control room is needed, plus microphones, plus outboard gear, plus isolation booths… Bills begin to build up, and as Magne says, "I realized it was nonsense to get all this as a single composer: it would be much more reasonable to hire this studio to all other music composers. So I had to create a company to offer these recording services to creators and producers" ("L'amour de vivre", page 194). That's how Michel Magne created Strawberry Studio (same name as Manchester's, but Magne didn't know)... And as Hérouville is 20 miles away from Paris, Magne offers his customers to live in his Château as long as they record in the studio, with rooms and restaurant on-site. He creates the first French residential studio, the second in the world after Rockfield in Wales (est. 1965, first hit with Dave Edmunds in 1970)…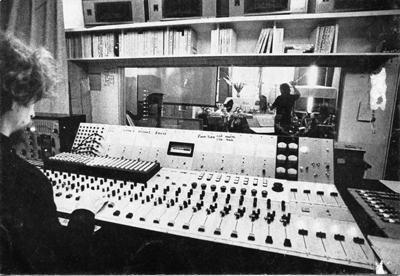 First recording sessions in Hérouville studio, with 40 musicians, for the "Cold Sweat" score composed by Michel Magne.
Gérard Delassus is at the console, Michel Magne conducts. There are four Altec 604E monitors on top.
Immediately after, Strawberry Studio goes 8-track (Scully 280), with Dolbys. Customers don't come immediately, so Magne put his personal money into the studios to make them run. In March 1970, he records with Delassus and a session orchestra the music he composed for Cold Sweat movie (by Terence Young, a former James Bond director). Some English and American artists come: Rex Foster, Canned Heat, Memphis Slim, Buddy Guy, Julio Fin… and a famous French singer, Eddy Mitchell, with sound engineer Keith Harwood (from Trident Studios, London). Magne then hires a young and promising sound engineer, Dominique Blanc-Francard, who brings his 'French rock/pop' customers in Le Château. As DBF is a bass player too, he talks directly to musicians, destroying the invisible border between musical and technical aspects. Hérouville was the first French studio where the wall fell between control room and recording space. Gong spent a few weeks in 1971 in Hérouville to record Camembert électrique.
Then Michel Magne met, during spring holidays on the Côte d'Azur, a bass player called Bill Wyman, who worked there with his band The Rolling Stones to record Exile On Main Street. Magne invited him to visit Hérouville: Wyman did, and as he was a producer too, decided to go to Hérouville to record two acts: John Walker, then Tucky Buzzard. DBF was at the console, everything went smoothly, the working ambiance in Le Château was completely different from the conditions in Nellcôte villa where the Stones recorded their album, and the recorded sound was very good, as Wyman realized when he listened to his tapes in the Rolling Stones Mobile. So he talked around him about this Château near Paris…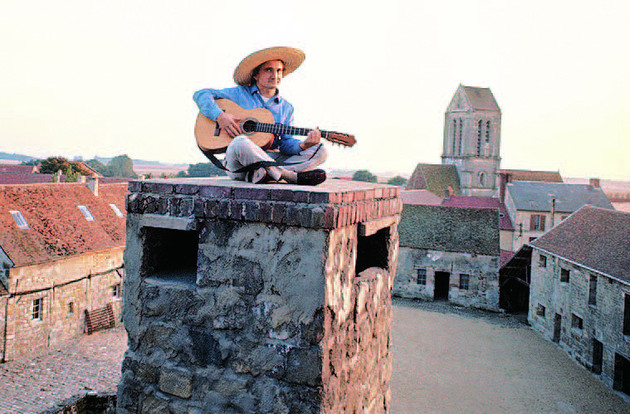 Michel Magne sitting on the right wing's chimney. In the back, venerable Saint-Clair Hérouville church.
As this picture was taken in 1969, the Chopin studio doesn't exist yet : it will be built in 1971 in the hole between the two buildings right.
In-between, a friend of Magne organized a pop/rock festival in Auvers-sur-Oise, near Hérouville. It was cancelled due to bad weather conditions, but The Grateful Dead had come on purpose from California. Magne invited the band and their team (ca. 50 people!) to live in Le Château, and to play in the park. This was done on June 21st, 1971. A legendary concert, filmed for French TV, which put Hérouville on the map for rock bands around the world. Magne built a mobile 16-track recording studio, then a second studio in a barn near the Château. Hérouville staff grew to 22 persons in a year. Elton John, Pink Floyd, Joan Armatrading, Cat Stevens, T. Rex, Teddy Riley and many others stayed in Hérouville for weeks. Michel Magne's dream had come true, and he was very proud to have the only French studio hosting famous international artists on a regular basis. Dominique Blanc-Francard takes 'rock'n'roll sound' lessons directly from Tony Visconti or Ken Scott themselves, and works with famed producers as Paul Samwell-Smith or Gus Dudgeon. Other sound engineers working in le Château are Gilles Sallé, Christian Gence and Andy Scott.
Elton John has a particular relationship with Hérouville. The place inspires him: he wakes up in the morning, and already during breakfast, musical ideas come to him. Magne has put a rehearsal setup in the veranda, where Elton can jam with his band. More often than not, a song is born at the end of the morning. Bernie Taupin, Elton's lyrics writer, works on the words while Elton and his band record in the studio, in the afternoon, what they wrote with in the morning. Then Elton sings the words Taupin come up with. Same thing on the next day. Elton calls his first album recorded in Hérouville (from January 7th to 26th 1971) Honky Chateau. He's back in May, then in 1973, for his double album Goodbye Yellow Brick Road.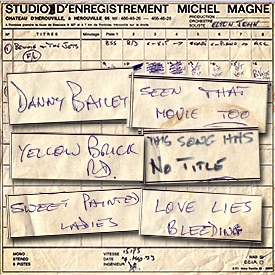 One of the multitrack tapes for the double LP Goodbye Yellow Brick Road.
Sessions took place from 7th to 18th May 1973. They were filmed, and are available on the Classic Albums DVD dedicated to the album.
By mid-1972, le Château d'Hérouville had become a huge machine, with two studios plus a mobile, restaurants, 20 rooms, and there are up to 22 persons on the payroll. So Magne turned to studio manager, but this entrepreneur role is not for him. He loves to have famous artists in his studios, offers them the best food (made by a French chef of his friends) and the best wines, without price considerations, but pressure gets on him, and he would like to go back to music writing. Since the beginning, the studios accounts are not balanced. Dinners in the park with forty or fifty guests cost a lot, and as Magne doesn't compose for films anymore, so incoming royalties are all-time low. So he has the idea to pass the responsabilities for running Strawberry studios to someone else…
On June 30th, 1972, Magne signs an agreement with a Parisian studio executive, to let him run Hérouville (he had had offers from Richard 'Virgin' Branson and the Trident studios team). Everything seems fine at the beginning, Magne marries with Marie-Claude in Hérouville with a huge party in November 1972, then goes on moon holiday. He writes scores for Vadim (Don Juan 73) and Jean Yanne. But studio losses don't stop, and the situation is getting worse between Magne and the new studio manager, who soon brings about legal proceedings. Customers keep coming: Jethro Tull, David Bowie, Hudson Brothers, Uriah Heep, Mick Ronson, and many French artists, but money keeps running out. As a result, the studios close by the end of 1973. Michel Magne then leaves to Southern France. Hérouville runs under administration, and the studios come back to life in June 1974 with another team.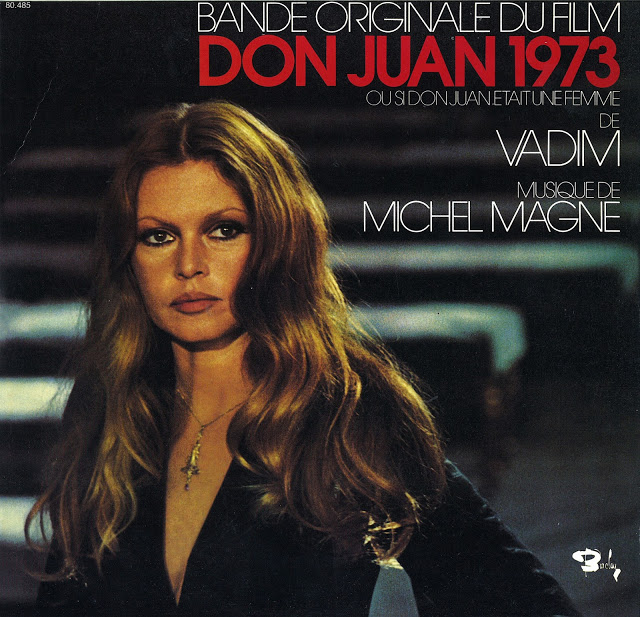 Michel Magne, at once, is fed up with music. In Saint-Paul de Vence, he goes back to painting, and braids magnetic tape to show he doesn't care with recording anymore. He meets former Hérouville customers, like Bill Wyman, or the Pink Floyd, or even Elton John, on the Côte d'Azur. Barclay releases Les plus belles musiques de films de Michel Magne, two compilations of his film musics, which were not available anymore at that time. But soon, justice gets in the way, Magne is declared bankrupted, and his royalties are withheld at source to pay Hérouville studio's receivables. He comes back to Paris in 1977, and tries to save Hérouville from liquidators and to write music for films again. But everything has changed, he's not fashionable anymore, new young directors lead the way, and hire Magne's former assistants. He records two new LPs for Barclay, La Terre and L'Eau, and tries to write film music again.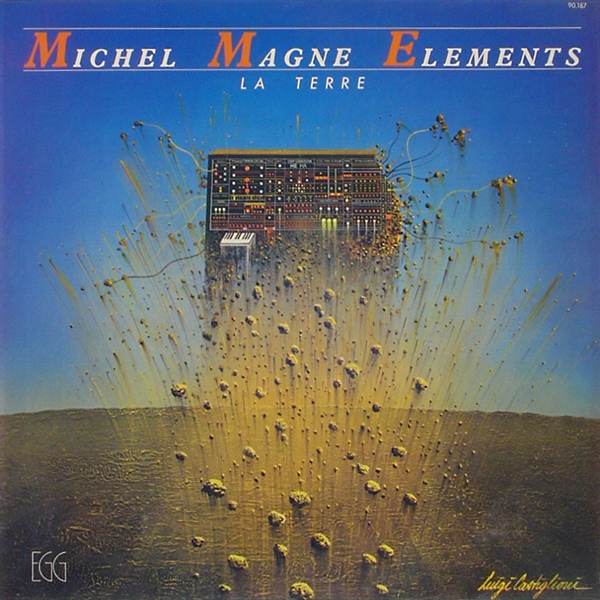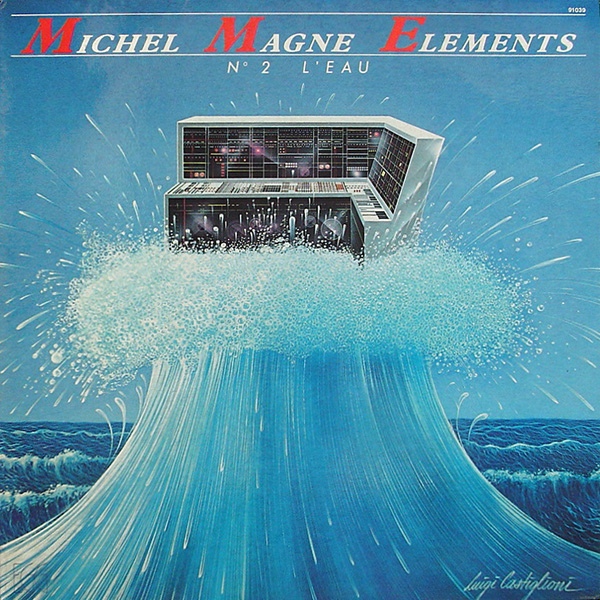 The Château d'Hérouville is finally auctioned to pay for the studio's debts in June 1979. It is bought by a property developer, who apparently wanted to destroy it to build houses in the park. But Hérouville's nearby church is very old, and French law prevents to change anything around it. Including the Château… The studio keeps running, and hosts Hawkwind, Mahavishnu Orchestra, David Bowie, Iggy Pop, Bad Company, The Bee Gees (Saturday Night Fever's songs were composed and voices recorded in the Château staircase!), Rainbow, Michael Schenker Group, Fleetwood Mac (Mirage), plus many others. It closed in July 1985.
In Paris, Magne gets obsessed with his lost Château. He considers it's a complete injustice, and tries every procedure he can to get it back, to no avail. He gets more and more depressed, undergoes a sleep treatment, then goes back to work, writing several scores (T'es folle ou quoi?, Les Misérables, Surprise Party, L'indic, S.A.S. à San Salvador, Emmanuelle 4, Réveillon chez Bob), hosting TV shows in his personal music studio full of synthesizers. He then relapses, spending some time in hospital with all his Hérouville official files hidden under his bed… On December 19th, 1984, Magne hires a room in Pontoise Novotel, and swallows a cocktail of pills. He never woke up.
Michel Magne was one of the most prominent French film music composers. His palette is wide, from Tout le monde il est beau... pop songs to Don Juan 73's lyrical words, from Fantômas to Angélique, from Compartiment tueurs to La ronde, from OSS 117 to Gentleman de Cocody : everything's different, but it's the same composer, sometimes comical, sometimes lyrical, always attractive and (in)pertinent.
Almost all his works have been reissued since 1998, thanks to Stéphane Lerouge (his 'Écoutez le Cinéma' collection reissued many Michel Magne scores) ; some others are available via Music Box, and there's surely more to come... And the Hérouvile studios came back to life in 2015.
*

---
Last update: January 11th, 2017
© 2017 Franck ERNOULD