| | | | | | | | |
| --- | --- | --- | --- | --- | --- | --- | --- |
| | | | | | | | |
Le Château d'Hérouville (aka Strawberry Studios)
The first French residential international studio
Few French recording studios left as strong a print on history as the Château d'Hérouville, in France and worldwide. From 1970 to 1985, many French and international stars lived and created there, many mythical albums were recorded in this 18th-century country manor, situated 20 miles away North of Paris, transformed in a residential recording studio by its then-owner Michel Magne. A breathtaking story, about to be continued...
---
A book about Michel Magne and the Château studio story is being written. It should be published, in French, mid-2016. If you went once at the Château, or if you know somebody who did, please contact me: fernould@club-internet.fr. Tell me if it should be translated in English. THANK YOU!
The Château has a Facebook page since 2010.
---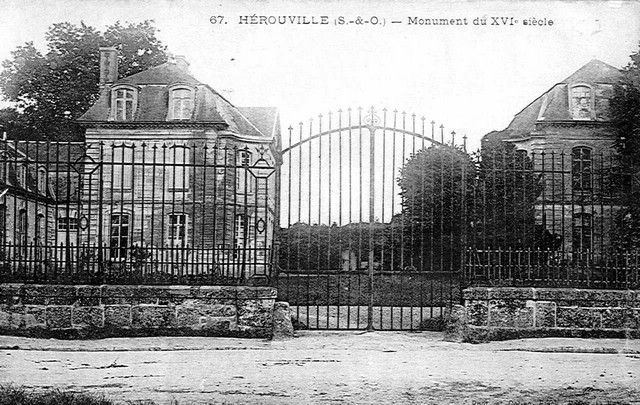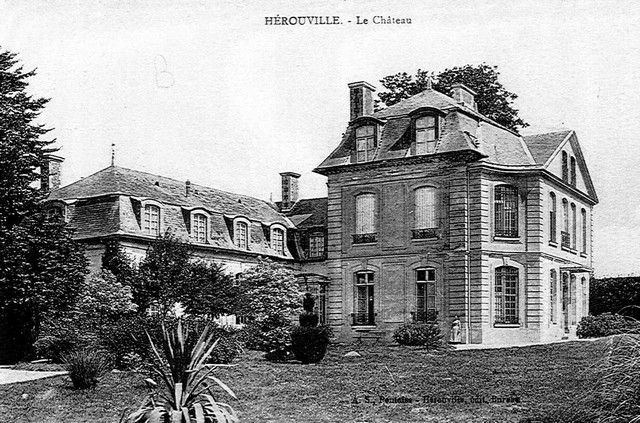 These postcards were printed in the 1920s.
You can see on both the left wing's original second floor, now destroyed and badly rebuilt.

It's impossible to write about the Château without talking about Michel Magne, who re-created the place the way his extraordinary personality induced him to do...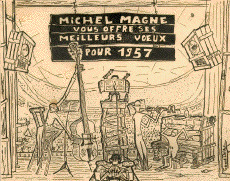 Michel Magne sent this greeting card to his friends in 1957.
Sketch by Gérard Dulac, aka Gérard Delassus, first sound engineer and technical director at Hérouville.
In the 50s, Michel Magne then in turn an electro-acoustic pioneer, a symphonic music composer, a pop arranger, and began to write music for movies. A major personality in Montmartre (where he long lived), he was friend with Françoise Sagan, Boris Vian, Henri Salvador, Jacques Loussier, Eddie Barclay... At the beginning of the 60s, he heard, for the first time, about the Château d'Hérouville by a friend. Situated in a small rural village, a few miles from Auvers-sur-Oise (where Van Gogh lived, painted and died) and Pontoise, this huge double house has been abandoned since several decades, and was almost in ruins: it had been used as a post relay in the 19th century, including an inn. Legend had it that Chopin and George Sand met there on week-ends for torrid rendez-vous…
The Château belonged then to Colette's daughter (Colette is a French famous writer). Michel Magne visited the place, and immediately felt in love with it. He bought it at once, with a friend, keeping the left wing for himself (that's almost 800 sq. m to live in, on three levels). He then fully renovated it, no expense spared, using only the best and most beautiful materials available. To fund this renovation, he had to write more than 10 original scores a year (for French blockbusters like the Fantômas and Angélique franchises, Les Tontons Flingueurs, Mélodie en sous-sol, Les Barbouzes and many others...). After his friend died in 1965 in a car accident, Magne bought the other wing, and began to renovate it too.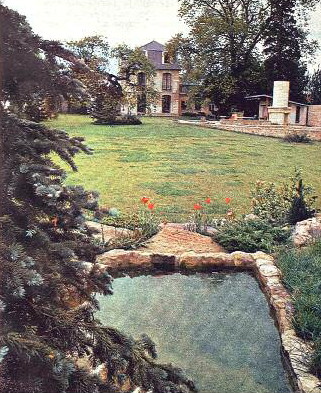 The Château left wing, seen from the park, in 1967. The swimming pool is on the right, the tennis ground on the left, outside the picture.
Afterwards, Michel Magne who was a real hedonist and gourmet, regularly invited directors, record company executives, musicians, singers… to visit him ans spend the week-end in his completely refurbished Château. Sometimes, there were more than 100 guests eating, playing, having fun in the park. Magne had now a (heated) swimming pool, a tennis ground, a studio for his paintings, a splendid music room (see picture below) under the roof, a veranda, an aviary... For the whole Parisian show-business, at the end of the 60s, Hérouville was THE place to be.
On May 26th 1969, a fire, probably from criminal origin, severely damaged the Château's left wing. Originals of movie scores, unreleased master tapes, records, music instruments, paintings, books: a huge part of Michel Magne's life as a composer disappeared in the flames. But Magne had a strong character: he decided to move to the right wing, and to replace his music room by a private multitrack studio built in the second floor, under the roof.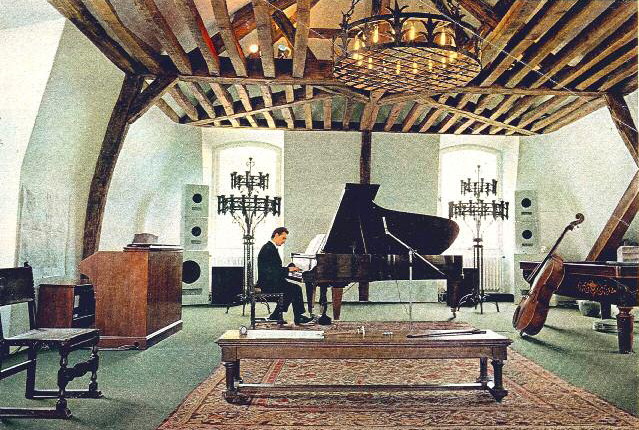 Michel Magne's music room, in left wing's second level, in 1967. Almost 150 sq. meters to work, play, create...
A genial intuition

Magne's aim was to be able to work on his own compositions when he wanted, to invite musicians and try things with them without having to keep an eye on the clock. A home studio, at a time where very few people could afford one! To begin with, he bought a second hand Studer 4-track recorder and a broadcast console, heavily customized by his self-taught-in-electronics old friend Gérard Delassus, and two young assistants who helped build and wire the studio.
But that's not enough! He then has to buy a professional monitoring system, a collection of microphones, outboard equipment for the control room, then to pay for laying out and wiring the mansard studio itself (more than 100 sq. m, 6 meters height), with visible beams and vintage chandelier, soundproof doors… Bills soon build up, and Magne realizes that to make these investments profitable, he's rather turn the place into a commercial studio, by creating his own company – the S.E.M.M. (Société d'Enregistrement Michel Magne, 'Michel Magne's Recording Company'). The place is far away from Paris? Sure, but people would be able to eat and sleep in the Château (each wing has more than ten rooms), and the park is 5 acres wide...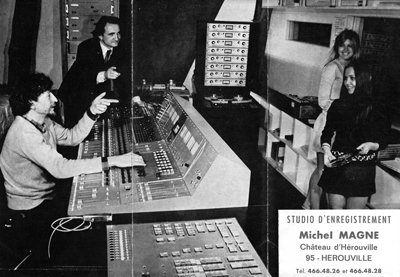 The Studio d'Hérouville's very first flyer, beg. 1970.

Left from Right : Gérard Delassus, Michel Magne, Dominique Linné (assistant) et Anne-Marie David (singer).
So doing, Michel Magne had the genial intuition of the residential studio concept, completely unheard of in France at that time. Indeed, Paris' biggest studios belong to record companies themselves (Philips, Barclay, Decca, Pathé...) – and there is a slightly 'straight' ambiance there (tie is mandatory, tasks are strictly separated, memos and application forms everywhere). Working schedule is made one year in advance, based on record release forecasts made by the marketing service…). There are very few Parisian high-level independent studios at the end of the 60s – Europasonor, Acousti, CBE, Studio 10 and Davout among others. In record labels studios, psychological distance is growing between a permanently hired technical personnel, more or less motivated (sound engineers had left their white coat aside not so long ago), and musicians and singers who let their hair grow and claim they want to change music and the world around.
The golden era of so-called 'pop music' is coming along: Woodstock festival just took place, in summer '69, and new musical stars are The Beatles, The Beach Boys, The Rolling Stones. USA are now invaded by British music! A few years ago, hits belonged to singers with their backing musicians: now, there are made by rock or 'pop' bands. At the end of the 60's, 'Freedom' is the main word (remember May '68 in France?), and many young artists don't want to work in their record company's studios anymore, as they contractually had to until then. Being able to record songs in a huge old house in the country, for a few days weeks in a row, without any pressure, without counting time, without sharing the equipment, without urban unpleasant aspects, is most attractive to them.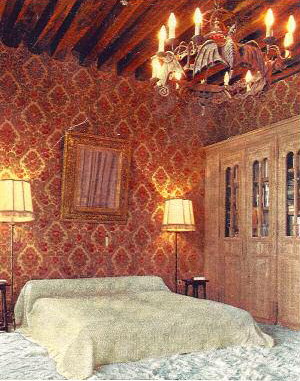 Michel Magne's room, in the Château's left wing, in 1967. The "carpet" is a goat skin.
After him, Elton John, David Bowie, Stevie Nicks, among many others, slept there in the 'stars room'...

A man nicknamed DBF

On November 21st 1969, Michel Magne creates the S.E.M.M. company, to run the Strawberry Studio (he apparently didn't know there was already another Strawberry Studio in Manchester). Magne's address book includes the whole French show business, but amazingly, his first customers are English and American artists – thanks to Jean Fernandez, A&R manager at Barclay and a good friend of Magne, who lived several years in the USA. So come successively to Hérouville Canned Heat with Buddy Guy, Memphis Slim, Julio Fin, Rex Foster et Marilyn, Slam Stewart, Milt Buckner, Jo Jones... All these artists are famous at the time, they only spend several days in a row in Hérouville, but they contribute to the place's fame and prestige: at the time, there's simply no other French recording studio welcoming English or American artists on a regular basis.
All the artists love the studio's sound itself; it's carpeted but there are no parallel walls, huge beams are visible, with a superb huge medieval chandelier hanging, there are several isolation booths for the drums, the vocals. Three large windows look into the garden or towards the village… The control room is smaller, pretty long but rather narrow; it is several steps higher than the studio itself. The original second-hand 4-track Studer tape machine leaves place for an 8-track Scully, and Magne even buys Dolby A noise reduction units, very expensive at the time. Gérard Delassus leaves at the beginning of 1971, and newcomers (and nevertheless already experimented) Gilles Sallé and Christian Gence work with the first rock and pop bands – for example, Camembert Électrique by Gong. They are joined by Dominique Blanc-Francard.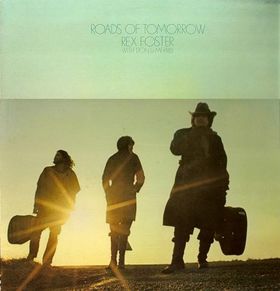 Rex Foster's Roads of Tomorrow was recorded in Hérouville during the spring of 1970.
One of the first records made at Le Château, released by Barclay in France.

The son of a radio sound engineer, DBF was a guitarist in the band Les Pingouins (his older brother Patrice was a radio DJ too). As they split in 1962, he found a job as a recorder in E.T.A. studios in Paris, where he did absolutely every session, from spoken-word to demos, learning methods, illustration music... A mutual friend introduced him to Michel Magne in Hérouville in November 1970. Dominique visited the studio, had dinner there and discussed with Magne; he thought the place was great. Several weeks later, Fernandez asked him to finish an Eddy Mitchell record (Zig Zag), as the English sound engineer (Keith Harwood, as a matter of fact) had to go. For a few weeks, DBF works in Paris during the day, in Hérouville at night. He soon realizes the studio sounds really good, and even if almost every equipment is 'custom-made' and non-standard (including the mixing console!), records can be produced in good conditions. Moreover, Dominique is fully aware of the huge commercial potentialities of the "residential" side. He quits E.T.A to become a S.E.M.M. employee in February 1971. The records he makes at the Château will be noticed and considered, and he admits that he had to re-learn completely his skills in Hérouville, working with so many English and American producers and artists.

Make it double!

Dominique's friends, musicians and producers, follow him and begin to record in Hérouville too. So do musical TV shows, often shot in the studio or in the park. The place becomes famous, and Michel Magne is an excellent RP manager. A regular customer is Laurent Thibault, a bass player and co-founder of Magma, who runs the Thélème label for Barclay. All guests appreciate the residential side of the Château, the rooms everywhere, the gastronomic meals coocked by a Chef-poet named Serge Moreau (an old friend of Michel Magne), the always heated swimming pool in the 50-acre park, the private tennis court, and Michel Magne's inexhaustible wine cellar. Magne was a 'bon vivant', he loved to welcome artists at his home and to treat them well, even if there were 20, 30, 50 guests around the table… or even more sometimes!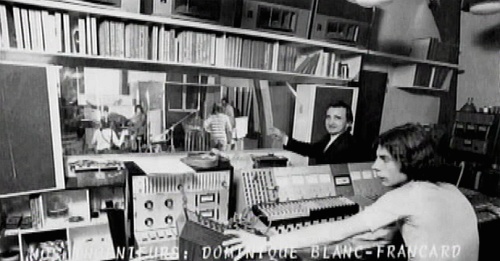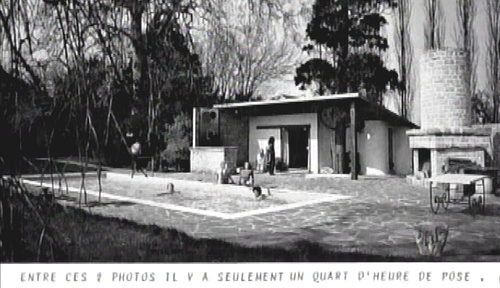 Magma, Michel Magne and DBF in the studio... Then by the pool. Caption : "Between these 2 pictures, only a 15-minute pause".
The climax was reached in June 1971. Jean Bouquin, once a Brigitte Bardot's stylist, had organized a kind of French Woodstock festival in Auvers-sur-Oise, a small village several miles away from Hérouville. He had invited the Grateful Dead, but the weather was terrible, and the concert cancelled. Magne told Bouquin and the band to come and stay a few days in le Château. To thank him, the Grateful Dead played a magical 'private' concert on June 21th, in the park… but the word had spread, and there were more than 1000 people present, with firemen, policemen, and a naughty guest poured some LSD in the 'punch' served to everyone. Even months later, people kept telling Magne that the Dead's music had had an exceptional effect on them! And as Magne wanted to record the festival, the Château team built a mobile studio in a white Ford Transit van, called 'Strawberry Mobile', which was regularly used until 1975.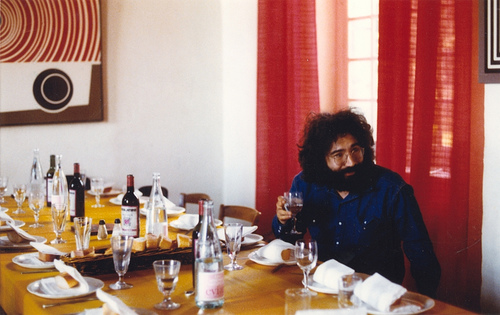 Jerry Garcia (Grateful Dead) himself in the Château's huge dining room, in right wing.
There's a geometrical painting by Michel Magne hanging left, another right. Picture by Rosie McGee
Michel Magne was a generous man, but a bad administrator and no accountant. Residential costs included, the studio burnt more money than it brought in the company's bank account. To solve this problem, Magne began by creating the Strawberry Mobile, France's first 16-track mobile recording studio, based on the same gear as the George Sand studio with even a CCTV set, to be able to remotely see what was going on onstage. It was used in many locations, serving as a secondary studio when not on the road, parked behind the Château. As the George Sand studio was almost always busy during 1971, Magne then decided to create a genuine second one, to double the S.E.M.M. income. It was built in a separate barn, in the Château's courtyard, using lots of concrete, curved lines, and a large control room, equipped with 4 speakers and a 'made to measure' orange 40-channel mixing desk. This 'Chopin' studio was a little too small, the ceiling too low, and doesn't sound as good as the big one. Neither could it use the three natural echo chambers built in the left wing of the Château, whose sound was so appreciated many engineers printed it on tape, to have it for the mix. As a result, the Chopin was mainly used by French artists, the George Sand by the English or American acts.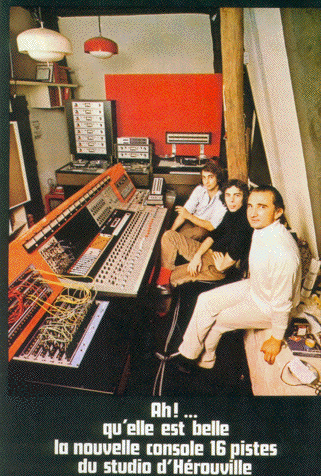 The Château's brochure in 1972. this is the George Sand control room.
In the background, Gilles Sallé, then DBF, then Michel Magne.

The Big Sound

By the end of 1971, English artists come more and more in Hérouville. Why? In April, Michel Magne had met Bill Wyman, then Rolling Stones bass player, in Southern France, and had invited him to visit his studio. Wyman did, then came in summer '71 to record sessions with DBF at the console, for two different projects – one with John Walker, from the Walker Brothers (never released), one with the band Tucky Buzzard (Warm Slash. Back to Côte d'Azur, where the Stones were recording Exile on Main Street in Keith Richard's mansion), he listened to the tapes in the Rolling Stones Mobile Studio, and was very happy with the acoustic sound he heard. So he talked about the Château with several friends, including Marc Bolan, who would come to Hérouville with T-Rex a few months later. Marc himself told of le Château to a singer/pianist friend of his, Reginald Dwight, a.k.a. Elton John. Elton John felt in love with the place and the Château team, where beautiful girls were always present. He and his band didn't always appreciate Serge Moreau's French cuisine, but they were inspired when they worked in Le Château : no less than three records (including a double record) in a row, from January 1972 to March 1973 – "Honky Château", "Don't Shoot Me, I'm Only The Piano Player" and "Goodbye Yellow Brick Road". Elton John even has a special acoustic top-box for Magne's personal Steinway piano made specifically for him by the Château's carpenter, Mister Bonaventure. So he can play piano at the same time as the rest of the band in the big studio, reducing sound spills to a minimum. Yellow Brick Road's drum sound, fine-tuned by Ken Scott and Gus Dudgeon takes advantage or the George Sand's natural 'airiness', and the sound of the echo chambers built in the Château's left wing was at the time a reference for many sound engineers and producers in the world.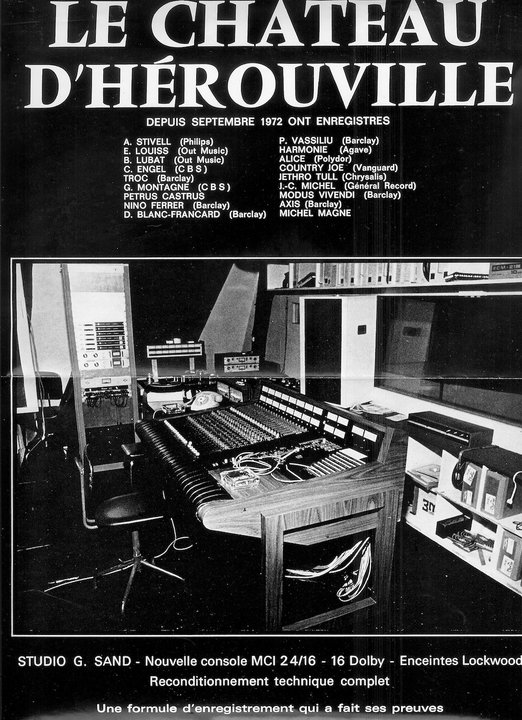 The Château's brochure in 1973. This is, again, the George Sand control room.
The Diffona console was replaced by a MCI, more appropriate - 24 input, 16 bus.

A new English-speaking engineer is hired to replace Gilles Sallé, who left: Andy Scott, a former roadie/sound man with the band Spooky Tooth. Other English artists come to Hérouville during 1972: Pink Floyd, Cat Stevens, Terry Riley, Joan Armatrading, Marc Bolan et T-Rex (Metal Guru, where DBF took with humility sound engineering lessons with producer Tony Visconti himself! Then Tanx. Rod Stewart leaves after a few hours, feeling the place too awkward. Many French 'pop' bands and singers come there too: Magma (1001°C is recorded from 5 to 10 April 71), Pierre Vassiliu (Attends, 19 to 23 November 1972), Claude Nougaro (Locomotive d'or), Dan Ar Braz with Mor (Stations) then Alan Stivell (Celtic Rock)... At least 30 LPs were recorded in Hérouville in 1972, according to the studio brochure and ads.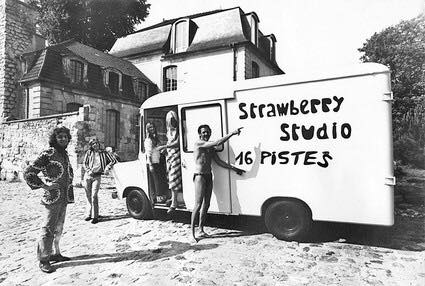 The Strawberry Mobile, parked at the rear of the Château.
It was the first 16-track mobile recording studio in France.

Michel Magne has thus become a studio manager. At once, it seems fine, but soon he feels it's not his place. Since 1969, running the S.E.M.M. is a full-time job, and Hérouville payroll soon grows to 22 people (including chef cook and assistants, caretaker, intendant, housekeepers, carpenter, hostesses, gardener, secretary, technical team…), As a result, he only could write two or three scores (among which Cold Sweat, directed by Terence Young, who shot the first James Bond movies). Investments are huge (16-track with Dolbys, mobile studio, then a second studio, accommodation, professional kitchen for the residential side…), but money runs out. Magne lacks a good financial manager. Magne's old friend Jean Yanne, an actor turned director, then asks him to write music for his first movie, Tout le monde il est beau, tout le monde il est gentil, recorded in le Château during the summer of 1971.
On this occasion, Magne realizes he went too far away from his 'natural' job. So he decides to find an agreement with someone to handle the studio management, so he could concentrate again on film music composing. Trident Studios are interested, so are Richard Branson (who just founded Virgin) and Steve O'Rourke (Pink Floyd manager)… But in the end, Magne chooses Yves Chamberland, Director of Parisian studio complex Davout (where he recorded several OSTs). The agreement protocol is signed on June 30th, 1972. Magne sells all his S.E.M.M. shares for 1 F (the company's passive is fixed to 600 000 F (ca. $700,000 today). And the short Chamberland era begins...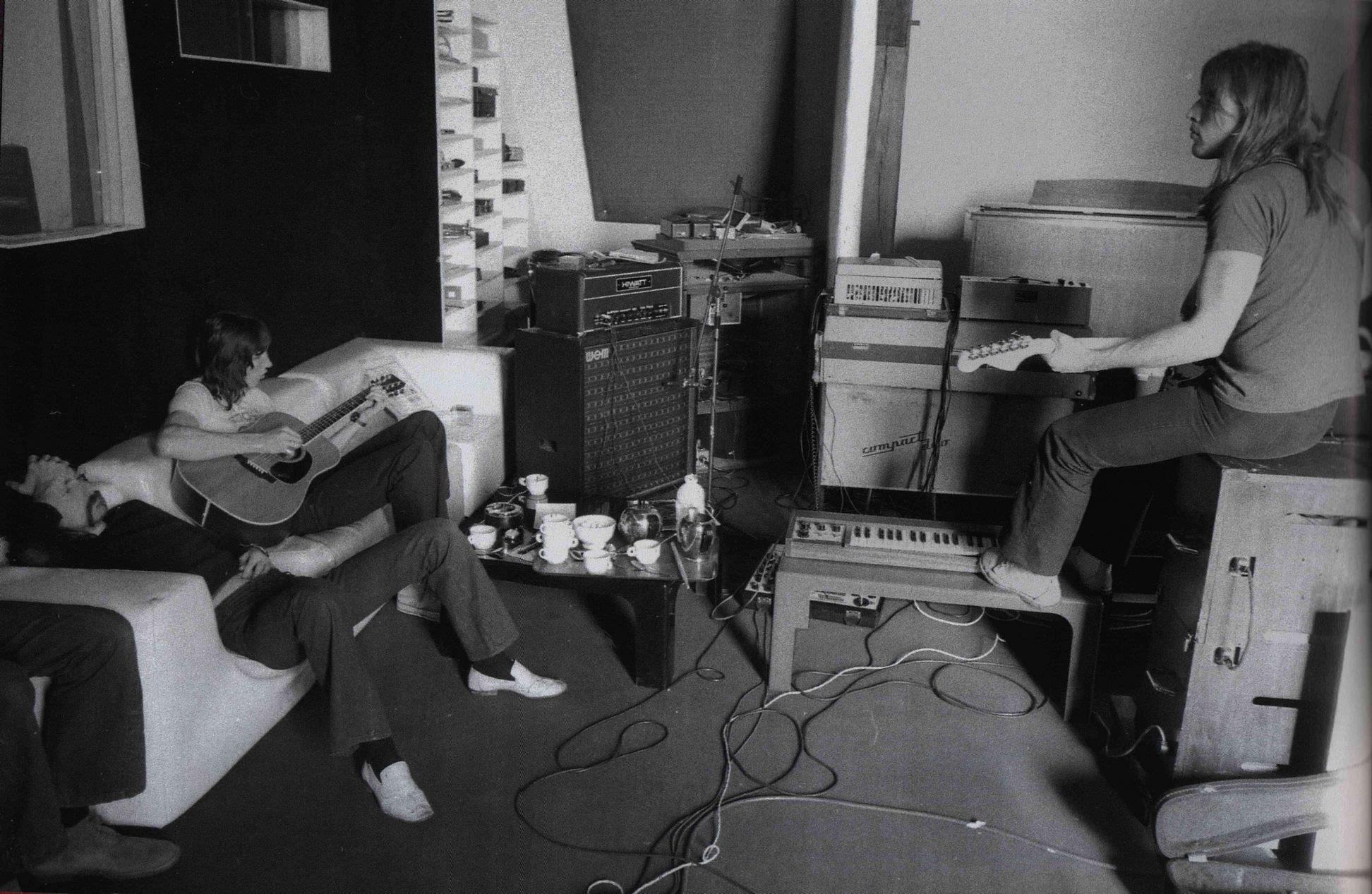 Pink Floyd working in George Sand studio in Hérouville, Feb. 1972 (Obscured By Clouds)

Dire Straits

With Hérouville, Yves Chamberland thinks he can develop his Davout facility, by attracting international customers. Chamberland knows how to manage a place, and spends less money, fires many employees, replaces the old gear with more standard one (MCI console and multitrack in the upper studio). Hospitality quality goes down, and David Bowie, while recording Pinups in July 1973, complains he was served too much potatoes and rabbit. Jethro Tull had a bad experience in Hérouville, even calling the tapes recorded there The Château Disaster. Uriah Heep, coming after David Bowie, have no problem while recording Sweet Freedom with Peter Gallen–they even play bowling with beer bottles in the corridors…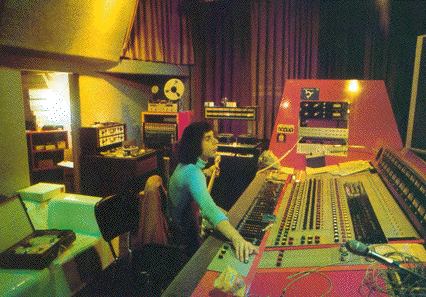 DBF in the Chopin studio, working on his solo album, Ailleurs, fall 1972, available on the iTunes Music Store.
Notice the splendid orange custom-made mixing console (with API modules)...

Yves Chamberland soon realizes that Hérouville's financial liability amounts to 1.2 million Francs, two times the figure Magne announced, and he agreed himself. A financial administrator is called, the activity stalls. In October, DBF and Andy Scott quit, Chamberland stops running the studios and takes back his MCIs. Last sessions are with Dick Rivers, who must complete his album Rock'n'Roll Star in England. The place is then abandoned, squatters come and live there without control. Jean-Pierre Ézan runs the place for a while, and has former Strawberry Mobile studio re-equipped, with English sound engineer Claude Harper, recording for example Tabarnac, a documentary about Canadian band Offenbach during their French tour. Then the place is abandoned, squatted, vandalized.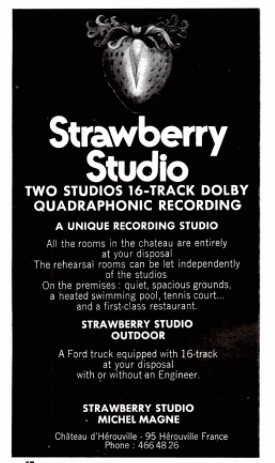 An ad for Hérouville Strawberry Studio in 1973, as printed in Billboard Magazine...

Born again Château


At the beginning of 1974, Michel Magne lives in Southern France, but he still owns Hérouville. He's looking for someone who could take over the studio activity. He soon chooses Laurent Thibault, a bass player and producer, who recorded many LPs there in 1971 and 1972. Thibault builds a team with his future wife Jacqueline, Jean-Claude Delaplace (ex-automobile engineering consultant) as Financial Director and Pierre Aupetit, replaced in 1975 by Pierre Calamel as Commercial Manager. They sign an agreement on 24th June 1974, accepting to run the studio and to pay its debts.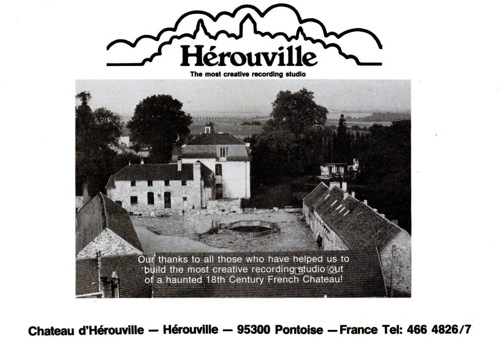 Le Château is back !! Another ad for Hérouville in 1975, as printed in Billboard Magazine...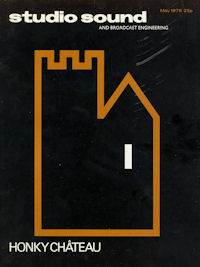 An English article written by Adrian Hope in STUDIO SOUND in May 75, text HERE.

Helped by some friends, they restore the park, repair what's broken in the Château, replacing what's stolen. The studio in the courtyard is destroyed, and left as is. Some temporary gear is installed in the upper room studio: Scully 16-track, Auditronics console, Lockwood speakers. The first recording session hosts Laurent's friend Alain Kan, in September. Then come Chris Bell (ex-Big Star, for I Am The Cosmos, recorded by Claude Harper, released in 1992 only), and others, like Tom Jones, Marc Bolan, Esperanto (who gets a minor hit with Last Tango, a song recorded in Hérouville), Hawkwind... John McLaughlin even comes with Mahavishnu Orchestra (Inner Visions) and enjoys huge Cadac speakers set up in the control room specially for him… Technical gear then gets updated, with a A-80 Studer 24-track machine and an API console, and the control room is equipped with the first Tom Hidley installation in Europe–Elton John, who came to rehearse his 1975 Wembley concerts, gave the idea to Laurent Thibault after working in Caribou studios.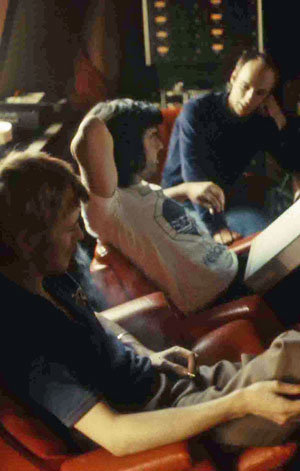 David Bowie/Tony Visconti/Brian Eno in the Sand control room
Low sessions, September 1976.
From then on, Hérouville plays the Studio Big League again, and 1976 is a magical year: the Château hosts Rick Wakeman (two months of sessions, for No Earthly Connection), then David Bowie (Low) and Iggy Pop (The Idiot), Bad Company, and famous French singers, like Yves Simon or Jacques Higelin, and bands (Magma, Transit Express…). 1977 is on a par: the Bee Gees spend two months in Le Château, mainly to write and record their tracks for Saturday Night Fever. They asked for a MCI-only configuration, but the mixing console, a JH-528, comes too late. It will be used by Rainbow (who comes three times in a row to record Long Live Rock'n'Roll), and Ritchie Blackmore is very concerned with the Château's ghosts. Many other artists record in Le Château, money keeps coming in, so the team can even refund some of the S.E.M.M.'s debts. But in 1979, black clouds suddenly reappear….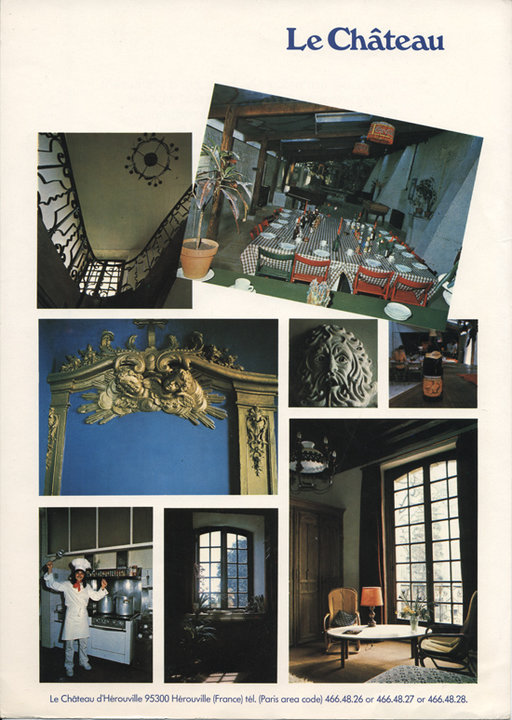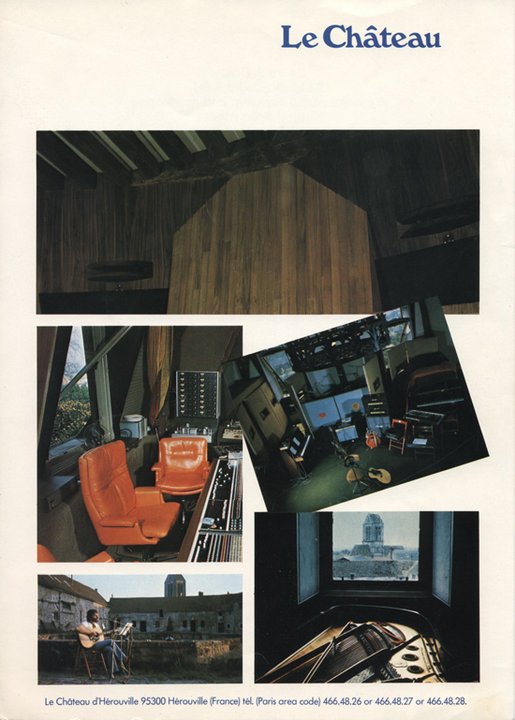 2 pages of the 1977 'Le Château' studio brochure.

Clouds above the Château
Back in 1973, Yves Chamberland had sued Michel Magne over the Hérouville takeover. Legal proceedings were long and complicates, but in the end Magne was convinced of fraudulent bankruptcy. So all that he owned was sold to pay his (and the S.E.M.M's) debts, and his royalties confiscated. As a consequence, the Château was auctioned twice. It was finally bought, in June 1979, by a property developer. Thibault and his associates were unable to bid, so they only could admit their landlord had changed… As Thibault didn't know what would happen after the sale, beginning of 79 saw few sessions in the studio—Sham 69 among them, who left some damage in the studio.
These months were a time of freedom, used with Jacques Higelin to re-work an album he was not satisfied with (creating Champagne pour tout le monde and Caviar pour les autres) and with Patrick Coutin, a rock critic/singer and musician, to record J'aime regarder les filles, which became a huge hit in France two years later. In the autumn, artists came back, e.g. Ganafoul, Speed Queen, Michel Eyan… 1980 was reasonably busy, but Hérouville, which had been the first French residential recording studio, now had competitors, like Miraval, Le Manoir or Super Bear (where Pink Floyd, Alan Parsons, Queen, Kate Bush or Elton John recorded major albums). Customers were now mainly French artists. And as his associates had left, Thibault was then alone at the commands. He nevertheless had sessions with Yellow Magic Orchestra, playing on Kazuhiko Katoh La Belle Excentrique album.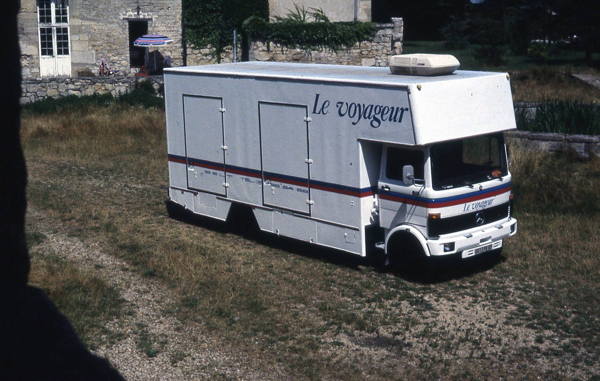 Le Voyageur mobile recording studio, built in a Mercedes truck, was the best-equipped one in France in 1980.
It's parked here almost at the same place as the Strawberry Mobile on upper picture.
In 1980, Thibault had the idea to built a top-level mobile recording studio, called Le Voyageur, equipped with the same MCI equipment as the main studio—borrowing Michel Magne's idea ten years before, but with a bigger Mercedes 508 truck. It was a success, almost always on the road (to record live albums). Then Hérouville's landlord raised the rent, and abusively wanted to get Thibault off the left wing (where accommodation and common kitchen were), to transform it into flats he would then hire out. Thibault sued him, and won. In-between, the building, which already needed some cosmetic work, got neglected.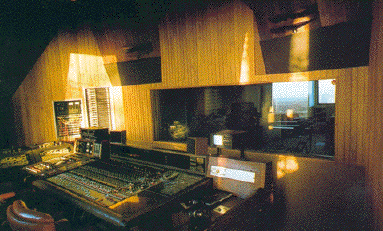 The control room, ca. 1980. MCI console and tape recorders, Tom Hidley monitoring system, sunlight...
In the end of 1981, CBS called to schedule months of studio for Fleetwood Mac. When executives came to visit the place, Thibault put ladders and paint buckets everywhere on the left wing, pretending it was under works. CBS lads were happy and even asked for more, paying for the artists room renovation (including pink satin on the walls and a brand new bathroom for Stevie Nicks, for example, or supplementary stairs). The band stayed there in December 1981 and January 1982, for the Mirage album, which was a commercial success.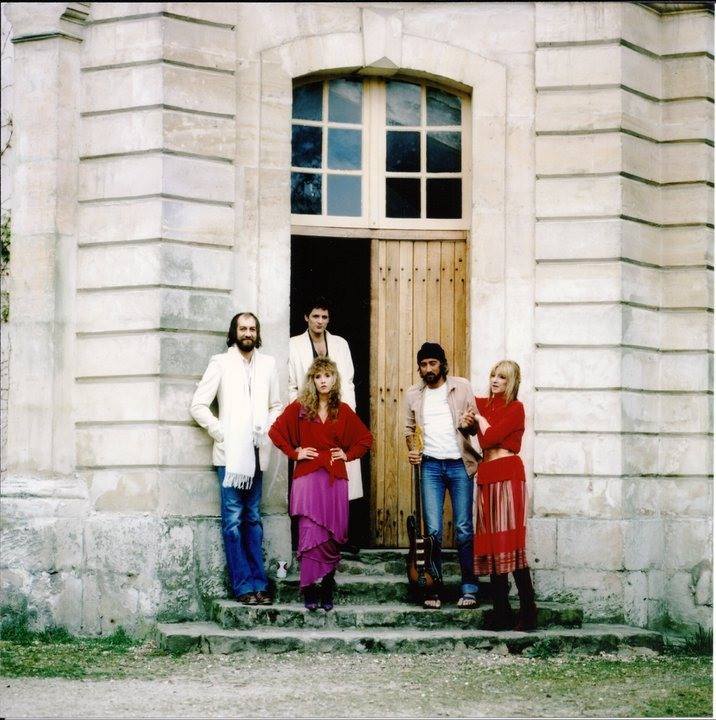 The members of Fleetwood Mad, in front of left wing's entrance, Dec '81. Two months of sessions for the Mirage album.

The End (almost)
Now war was declared between Thibault and his landlord, who asks him lots of money. It becomes difficult to invest, let alone to update the studio's console. Computerized SSLs are then the way to go, every major Parisian studio gets one… except the Château, stuck to its 1977 MCI JH-528 desk. Anyway, Michael Schenker Group comes with Martin Birch [Deep Purple, Black Sabbath, Iron Maiden…] in May and July 1982, to record Assault Attack. Other customers are Higelin, Nina Hagen, Enzo Enzo, Paga, les Sax Pustuls, Tom Novembre, Strychnine, Coutin, Patrick Abrial.
In 1985, the Château's owner had Thibault expelled of the château. He and his team must leave on 27th July, and they have to destroy the studio staircase's wall to take the console out. In 1987, Thibault then creates Couleurs Studio in nerby Auvers-sur-Oise. The Château's owner wants then to build a plot on the Château's premises, but he's forbidden to, as Hérouville's medieval church is protected by French law: nothing new can be built around 500 meters. Same thing when he tries to create an equestrian club. All he can do is run a saddle shop in the barnyard which once hosted the Chopin studio. He then decides to left the Château abandoned: he has no right to destroy it, but if it collapses, he can rebuild.
15 years later, the Château is still standing. A French audio company called Arkamys hires the right wing, renovates it mildly and stays there a few years, attracting other hi-tech companies like QIO or Le château Numérique. As we're in the dotcom era!, theses activities are subsidized by departmental authorities. But everybody leaves by the end of 2005. And the Château is abandoned again. Many persons, coming from around the world (Japan, China, Australia, Dubai, you name it), seem to want to buy it, but nothing ever happens. Original owner passes the Castle to his son, who officially puts it on sale for € 1,295M. French people come to visit, many of them on sheer curiosity, and say they want to run a gastronomic restaurant, a guesthouse, a fitness club, a tai-chi center, or even convert the buildings into luxury flats…
Finally, in September 2014, a team led by sound engineer Jean Taxis (who had to leave his own recording studio Val d'Orge), Thierry Guaraccino and Stéphane Marchi, submit a music and arts-oriented project. They want to live there, to restore the buildings and the park, to rebuild the historical studios and to add one, to run sound engineering training sessions and to host exhibits, conferences, auctions, video shooting… They bought the Château premises in January 2015. Shooting for a "David Bowie in Hérouville" documentary took place in May, others followed, and radio interviews too. Huge works are still in progress in 2017.
The Sup HD Audio training center, headed by Pascal Besnard, was rebuilt in former Chopin studio (in the courtyard). It is equipped with an Euphonix System 5 console, Prosodia Zephyr Atmos-compatible monitoring system. Former studio George Sand is under renovation (its original control room is now part of the studio itself, separation wall suppressed; the new 24-channel Neve 8108-equipped 70-sq. m control room, with A800 multitrack and Quested monitoring system, takes place under the studio, with video and audio links. The third studio, called Michel Magne, is in progress too (API 1608 console). Both of them should be operational in June 2017.
We forgot to talk about Michel Magne, without whom nothing would have ever happened... He moved in Southern France in 1974, in Saint-Paul-de-Vence, making friend with everybody there, from (sculptor) César to Bill Wyman. As he didn't want to hear about sound and music, he made braidings with magnetic tape, or assembled artistic compositions using score sheets. He came back to Paris in August 1977, but was unable to restore his fame as a music for film composer. He recorded several albums under his name, had a home studio full of synthesizers, wrote a few scores (some as brilliant as Les Misérables for Roger Hossein), but he was no more in fashion, and even his old friends didn't call him, except Roger Vadim. He knew he had lost Hérouville forever, and the Château was a big part of his life. He killed himself on December 19th 1984.
Le Château d'Hérouville deserves a huge place in the history of recording studios. It was the first residential in France, and played an important role in the evolution of the relationship between musicians and sound engineers. It was the first French studio to attract English and American customers, and Brazilian, Portuguese, Dutch, Japanese… It's difficult to know what would have happened if Magne had chosen Richard Branson or the Trident team to run his studio in 1972; or if Thibault and his associates had bought the Château premises in 1979.
Anyway, the place is alive again. Times have changed, the new team is fully aware of that, and as each member already knows a lot of people in different activities, Le Château will soon host exhibitions, musical TV shows, conferences, and of course music recording sessions. It will be linked, by optic fiber, with nearby perfect acoustically Saint-Clair 14th century church.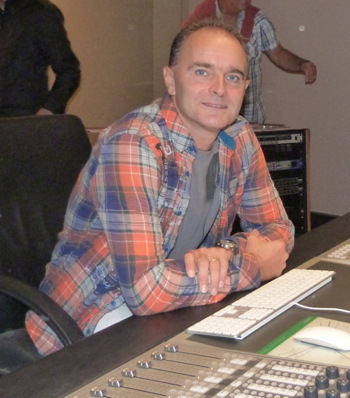 The author, October 24th 2015, at the Euphonix console in former studio Chopin, Château d'Hérouville.
BEWARE OF THE HONKYCHATEAU.FR WEB SITE : It has nothing to do with the current Château team. This was an American project, presented almost 10 years ago, but which failed to materialize. Problem is it interferes with the 'official' international communication of Le Château...
A CHATEAU d'HEROUVILLE COMPLETE ILLUSTRATED DISCOGRAPHY, YEAR BY YEAR (1970-1985): HERE (SOON!) !


---
---


---
Put online on January 9th 2017
© 2017 Franck ERNOULD